Results of Debate: Obama Back In the Game
The dull Obama of weeks past is gone as last night's debate proves that he wants to win, and is ready to fight hard to do it

Taylor

Posted on 10/17/2012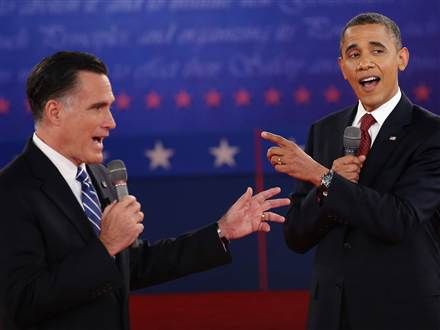 Last night's debate proved several things, most of all that President Obama did, in fact, strongly yearn for a second term and was willing to claw tooth in nail to acheive it. LA Times elaborates further:
Obama, in contrast to Denver, seemed to grow more animated and engaged once he and Romney began to square off. The president seemed particularly intent on making his case to voters who are crucial to his reelection hopes. He repeatedly cited Romney's pledge to eliminate federal funding for Planned Parenthood, noted that the first bill he signed as president was legislation making it easier for women to sue for pay discrimination, and even brought up Big Bird and Romney's vow to halt funding for the Public Broadcasting System.
Obama seemingly re-ignited the passion in which he campaigned with in the 2008 presidential election, while Romney maintained the enthusiasm and conviction that he debated with in Denver. Both candidates, though, did seem to have trouble understanding both their time limits and their responsibility to the audience, as both candidates repeatedly ignored moderator Candy Crowley's comments on time restraints and chose to instead squabble with each other. Obama didn't make much of a transformation in terms of the way he handled himself at the debate's start, but Romney on the other hand, did.
Romney started crisply, displaying the same authority he brought to the stage in Denver. When a young man opened the debate by asking about his own dim job prospects, he delivered a succinct answer. "More debt and less jobs," Romney said, summing up the Obama record as he sees it. "I'm going to change that."...But as the night wore on, Romney seemed increasingly irritated at Obama's aggressiveness, particularly regarding his business record. At one point, he ignored the question put to him to respond to an attack Obama had made much earlier in the debate regarding his investments in China.
The main flub of Romney was his claim that Obama had waited two weeks to claim the killing of a US ambassador in Libya was an "act of terror". Obama, it seemed, had been waiting for Romney to make this claim, and when he did, the president pounced.Obama commanded moderator Candy Crowley to read off a transcipt of the event Romney was referring to. The transcript said that president had, in fact, called it an "act of terror". The audience then erupted into applause at this upturning of Romney's attempted political punch.
Romney has also been attacked, specifically in the blogosphere, for saying that "the government does not create jobs", generating responses like "the president's job is one created by the government. Besides a few large slip-ups, Romney did very well, holding his ground on the main topics of the evening and still keeping the crackling support he strengthened with his debate win in Denver.
The first debate significantly altered the race; the GOP challenger not only salvaged his campaign but seized the momentum in the contest and rallied his dispirited party. Overnight, Republicans who were ready to give up on the former Massachusetts governor grew convinced he not only had a shot at winning but a good one.

Still, Obama enjoys structural advantages having nothing to do with his performance on the debate stage, starting with incumbency and, not least, a number of ways to the 270 electoral votes needed to win the White House. Romney, unless he unexpectedly cracks the contest wide open in the next three weeks, is looking at a much narrower path with little margin for error.
The next debate is on Monday.
comments powered by

Disqus