Turfburner reviews Texas Tech Spring Game
Turfburner reviews the Texas Tech Spring game. Nothing too new, but the offense looks to be competitve as usual, and the relative success of the season will hinge on improvement from the defense.

UCampus

Posted on 3/29/2012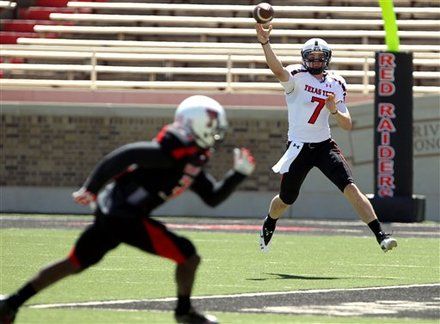 Go read the whole thing, but a preview of the article:
Doege completed 25 of 39 passes for 217 yards and a touchdown leading the first team offense. With Doege and now Brewer as his backup, Tech looks to have a solid one-two punch at the quarterback position.

Junior college transfer SaDale Foster led the rushing attack with nine carries for 70 yards followed by Ronnie Daniels with 14 carries for 58 yards. Last year's starter the first half of the season, Eric Stephens sat out spring practice as he continues to rehab from last season's knee injury and didn't participate in spring drills.

Texas Tech's offense should be solid once again in 2012. This much we know. What we don't know is what to expect on defense under first year coordinator, Art Kaufman with Tech now moving to a 4-3 defense after experimenting with the 4-2-5. What kind of improvement Tech can make on defense will play a huge part in determining whether or not Red Raiders find themselves back in bowl game after missing out a season on postseason play a year ago.

It might only be spring practice, but most signs seem to be trending in a positive direction on that front. Junior college transfer, linebacker Will Smith, has already made an immediate impact for the Red Raiders throughout the spring and could be a difference maker Tech desperately needs next fall. He didn't disappoint on Saturday intercepting a Doege pass and also led the team with six tackles.

The defense totaled nine sacks on Saturday, as well. Of course, that can be good and bad because it was Tech's offensive line that was giving up the sacks - and so goes football in March.

All things considered, it sounds like Tech is taking steps in the right direction after losing their final five games on the 2011 season. Of course, optimism always reigns supreme in the spring. It's simply one step on the road back back to the upper tier of the Big 12 for Texas Tech.
That's always the frustrating part of any zero-sum intersquad type game. Are nine sacks a positive for the defense? Or a negative for the offense? Considering it's not always ones-on-ones, can you even get anything from these games?
comments powered by

Disqus