Series in Review: Texas takes 2 of 3 vs OSU
After dropping an extra-inning pitcher's duel on Friday, Texas bounced back to take both games of the Saturday doubleheader. Links and information after the jump.

UCampus

Posted on 4/16/2012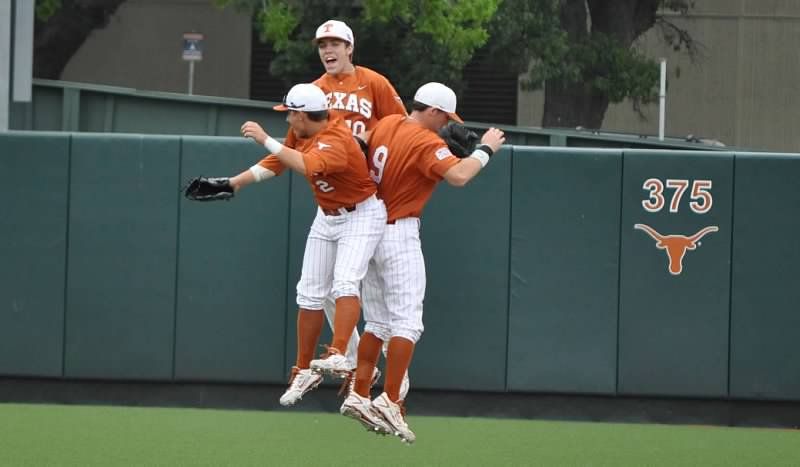 Longhorn Baseball blog reviews all three games. A bit about Parker French from the game two recap:
Parker French, originally slated to start Sunday, got the nod for game two of the series, and the freshman did not disappoint. French reached a career high in both innings pitched (8) and strikeouts (6), shutting out Oklahoma State and scattering six hits throughout his frames. Parker attempted to finish the game in the ninth, but was relieved by Hoby Milner, who induced a double play and fanned a batter to end the game. While the Texas pitchers dominated, the batters picked up them up, scoring two runs in the fourth and three in the sixth to earn a 5-0 victory and creating a rubber match for game three.
The Daily Texan looks at the impact Mark Payton has had on the team this year:
Texas has an All-American closer, a third baseman that's batting over .400 in his last 19 games and two starting pitchers who gave up one run between them in 14-and-two-thirds collective innings during UT's last series against Oklahoma State.

But the Longhorns' best player may very well be sophomore right fielder Mark Payton. The 5-foot-8-inch, 165-pounder from Chicago, who has reached base in all of Texas' 33 games this year, is certainly the team's pound-for-pound top player. And he proved why in the three-game series against OSU this weekend.

On Saturday, Payton made his presence felt at the plate.

In the second game of the doubleheader, Payton strolled into the batter's box with one out in the eighth inning and the game tied 2-2. Payton, a left-handed batter, took advantage of a strong wind blowing out toward left field by lifting a pitch from Cowboys hurler Vince Wheeland to the opposite field.

The ball was hit to the same place Payton's double the night before was hit. But this time it cleared the wall instead of ricocheting off of it. Payton circled the bases after hitting his second home run of the year, giving the Longhorns a 3-2 lead. They won the series finale and rubber match by that score, making it four Big 12 series in a row that Texas has triumphed in.
Burnt Orange Nation recaps game one and the Horns' victories on Saturday:
comments powered by

Disqus