NBA Finals Game 4 Links
The Heat erased an early 17-point Thunder lead and fought through injuries to LeBron James late in the 4th quarter to hold off Oklahoma City and build a 3-1 Finals lead.

UCampus

Posted on 6/20/2012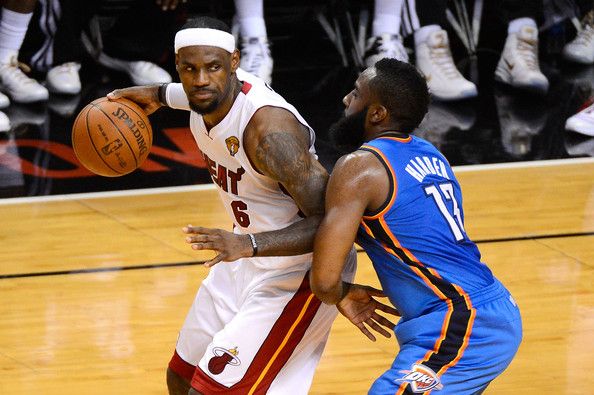 SBnation recaps the game and ends with high praise for LeBron:
Pick what you remembered most. There was the part where he caught that one-handed rebound and then threw a perfect no-look pass to Dwayne Wade for a wide open jumper. There was the part where he guarded the best scorer on the planet all night and totally neutralized him. There was the part where he spent 80 percent of the game in the post, drawing double teams, and throwing perfect passes to wide open Heat shooters, basically turning himself into a one-man offensive set.

And with the game tied at 94 with three minutes left, there was the clutch three pointer to drive a stake through OKC's heart. The game was never tied again.

LeBron is where his team is, then. There's no question that he hasn't answered in these Finals, and after two long years, the debates are over. Now it's all about getting one more win.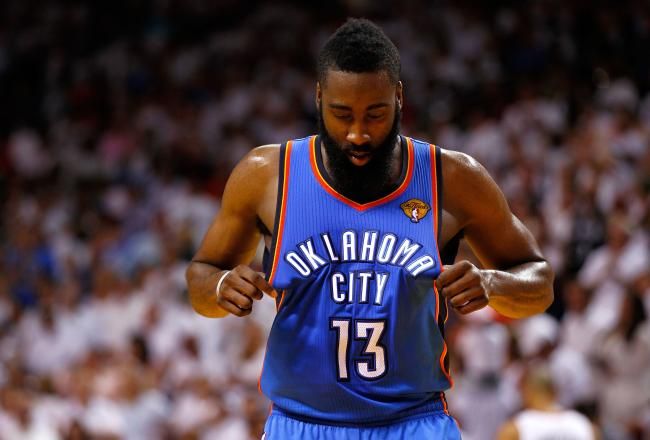 Grantland breaks down the Xs and Os behind why James Harden's hesitation is hurting the Thunder. ESPN piles on:
If Harden keeps playing at this subpar level, Brooks might be forced to bench him. Harden played 37 minutes in Game 4, including the entire fourth quarter. He shot 2-for-10 for eight points and had four turnovers, days after a nine-point Game 3. His confidence was so tattered by the end of the game that when he got the ball with just more than two minutes remaining, he looked around for any option other than shooting, realized the Heat's defense was forcing (begging?) him to take the shot and fired up an errant 16-footer.
Russell Westbrook is just ridiculous:
so is Dwyane Wade:
Mike Sherman from the Oklahoman sums up the process of creating a championship NBA team:
Sam Presti told us there are no shortcuts, that the making of a contender is a process, not an event. And suddenly, the process is turning into a procession. Barring a historic comeback, a championship awaits Miami. With three straight victories, including two straight in South Beach, the Heat served notice there will be no butting in line. The dues-paying organization known as the National Basketball Association is on the verge of crowning another champion forged in the furnace of Finals disappointment and adversity. One year after experiencing what the Oklahoma City Thunder is now experiencing, the Heat moved within a victory of the title with a 104-98 victory over Oklahoma City Tuesday night at American Airlines Arena. Miami leads the series 3-1. If the Thunder can rally to force a Game 7 next Tuesday in Oklahoma City it would become the first team to climb out of such a series hole since the NBA went to its 2-3-2 Finals format in 1985. No one has come back from this to win a title.
Finally, via TrueHoop, the Game 4 MicroMovie:
comments powered by

Disqus