The Search Continues For The Man On A Killing Rampage In LA
"I will bring unconventional and asymmetrical warfare to those in LAPD uniform whether on or off duty."

Jackson

Posted on 2/7/2013
Christopher Dorner, a former LA police officer and US Navy servicemember is currently being hunted by the police. He is on a killing rampage that so far has left 3 dead, including one police officer.
In defense of his actions Dorner has written a "manifesto" in which he attempts to justify his crimes. The manifesto is addressed to simply, "America".
From KTLA.com,
"I know most of you who personally know me are in disbelief to hear from media reports that I am suspected of committing such horrendous murders and have taken drastic and shocking actions in the last couple of days. You are saying to yourself that this is completely out of character of the man you knew who always wore a smile wherever he was seen. I know I will be vilified by the LAPD and the media. Unfortunately, this is a necessary evil that I do not enjoy but must partake and complete for substantial change to occur within the LAPD and reclaim my name."
"The department has not changed since the Rampart and Rodney King days. It has gotten worse. The consent decree should never have been lifted. The only thing that has evolved from the consent decree is those officers involved in the Rampart scandal and Rodney King incidents have since promoted to supervisor, commanders, and command staff, and executive positions."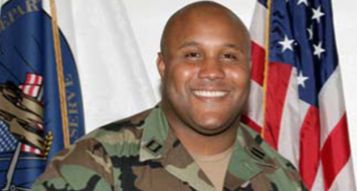 "The Violence of action will be HIGH. I am the reason TAC alert was established. I will bring unconventional and asymmetrical warfare to those in LAPD uniform whether on or off duty. ISR is my strength and your weakness. You will now live the life of the prey. Your RD's and homes away from work will be my AO and battle space. I will utilize every tool within INT collections that I learned from NMITC in Dam Neck. You have misjudged a sleeping giant. There is no conventional threat assessment for me."
You can read the full statement by Christopher Dorner here.
As is to be expected, authorities are mobilizing to handle this threat.
From montrealgazzete.com,
"Authorities issued a statewide "officer safety warning," and police were sent to protect people named in the posting that was believed to be written by the fired officer, Christopher Dorner, who has military training. Among those mentioned were members of the Los Angeles Police Department."
"Dorner has available multiple weapons including an assault rifle, said police Chief Charlie Beck. More than 40 protection details were assigned to possible targets of Dorner. The manhunt was possibly the largest in department history, Beck said."
"We're asking our officers to be extraordinarily cautious just as we're asking the public to be extraordinarily cautious with this guy. He's already demonstrated he has a propensity for shooting innocent people," said LAPD Cmdr. Andrew Smith."
Regardless of the validity of Dorners lengthy complaints, he is certainly going about this in the entirely wrong way.
comments powered by

Disqus