Some celebrities you just may have heard of have joined an exclusive, dubious club.

J.P.

Posted on 4/22/2013
In addition to Ms. Reese Witherspoon and her husband, Mr. Jim Toth, NBC broadcaster Al Michaels, and comedian Kevin Hart, are all recent recipients of DUI arrests.
Seems as though the squeaky-clean image of Reese Witherspoon's about to get mired in a wee bit of controversy following her arrest Friday night after a cop pulled her husband over for suspicion of driving while intoxicated.

According to a report from Variety, the actress and her agent-husbandJim Toth were seen driving erratically on Peachtree Street in Atlanta, Georgia. Toth — the purported driver at the time — was stopped by police and asked to perform a series of tests to deduce his intoxication level. Upon refusing to stay inside the vehicle, Witherspoon was handcuffed following repeated disobedience and a bit of a verbal tête–à–tête with the arresting officer.

Variety described Toth as being "disheveled" and smelling of alcohol, per the police report. He later blew a .139 on a police-administered Breathalyzer test, but told the officer he only had one drink several hours prior. Hollywood.com has reached out for comment, but had not heard back at the time of publication.

But, here's where things get a bit tricky for Witherspoon: apparently the Oscar-winning actress was none too pleased about the inconvenience and, according to the police report, "began to hang out the window and say that she did not believe that" the reporting officer was actually certified city brass. To which the office "told Mrs. Witherspoon to sit on her butt and be quiet."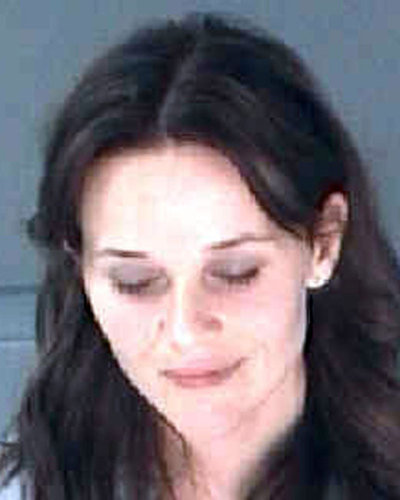 Things escalated from there, when the Mud star refused to listen to the officer's requests for her to remain in the vehicle and "stated that she was a 'US citizen' and that she was allowed to 'stand on American ground.'"

The police report alleges this exchange followed: "Mrs. Witherspoon asked, 'Do you know my name?' I answered, 'No, I don't need to know your name.' I then added, 'right now.' Mrs. Witherspoon stated, 'You're about to find out who I am.' ... 'You are going to be on national news.'" After winning herself approximately zero fans that night, Witherspoon was cuffed and briefly held in jail before the couple were bonded around 3:30AM Friday morning.
comments powered by

Disqus